-WHELP-
I've never written a blog before and have about 12 unfinished journals laying in a storage unit somewhere BUT I've come to realize my brand lacks a face and, unless you know me IRL, it may seem like this label is run by a sassy robot that never shows its face. Well, that is partially true. I'm just not a robot. 🤖 Sorry 😬 That would have immediately made this blog a thousand times more interesting. 
To start off I'm Bryant and I am a leather-Artisan! I design and handcraft leather goods, mainly bags and other case-design but I dabble in apparel, jewelry and mask-making on occasion too. 
I got into leatherwork when I was around 14 (I'm 30 as of this month). I had become completely obsessed with a leather masquerade mask my mom has brought home and framed.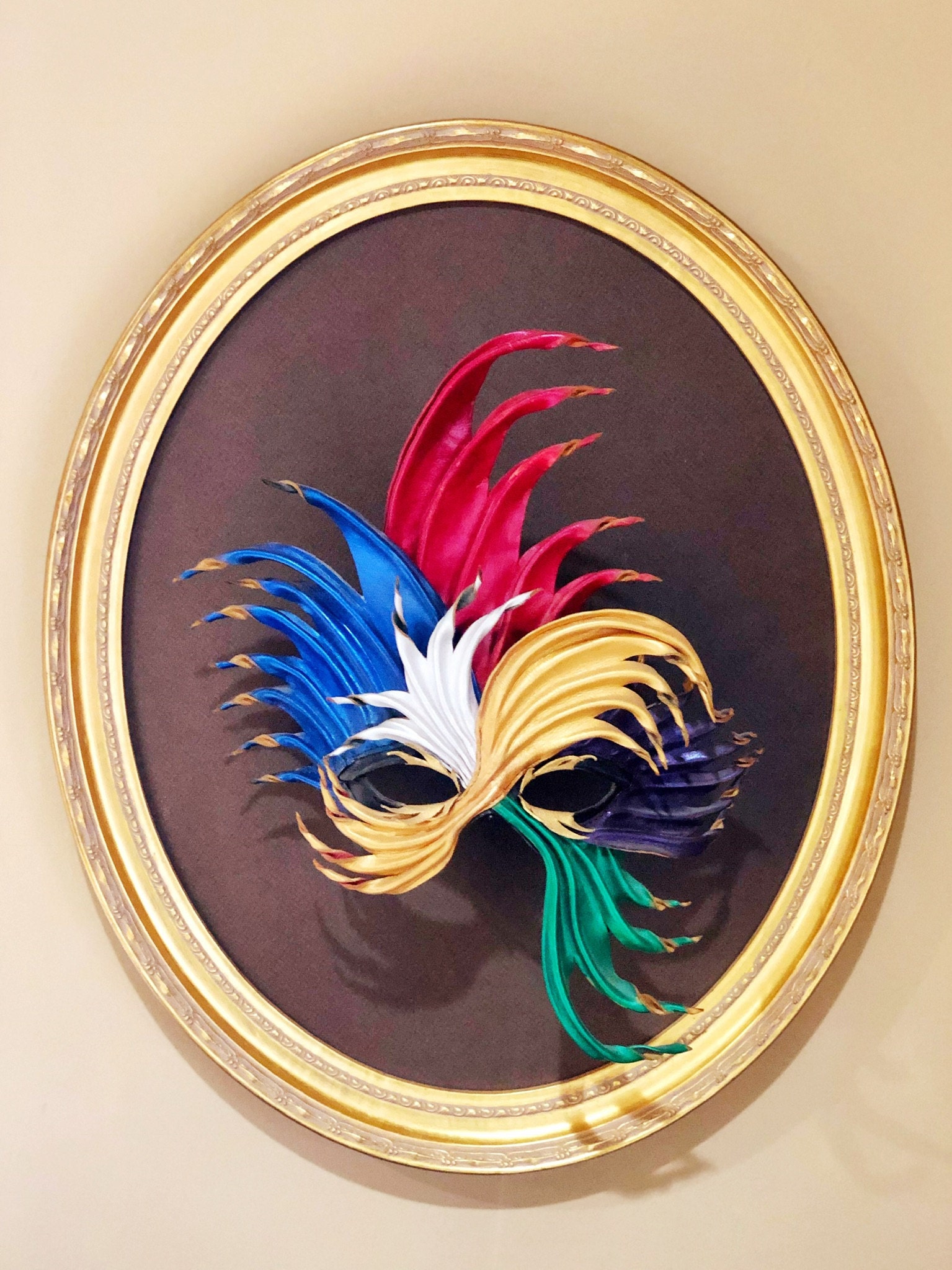 I already knew the whole dance and script for Masquerade from the Phantom of the Opera So everything was making sense at this point. Yeah I was that kid 14yo making leather masks and singing Music of the Night. Imagine how I've turned out.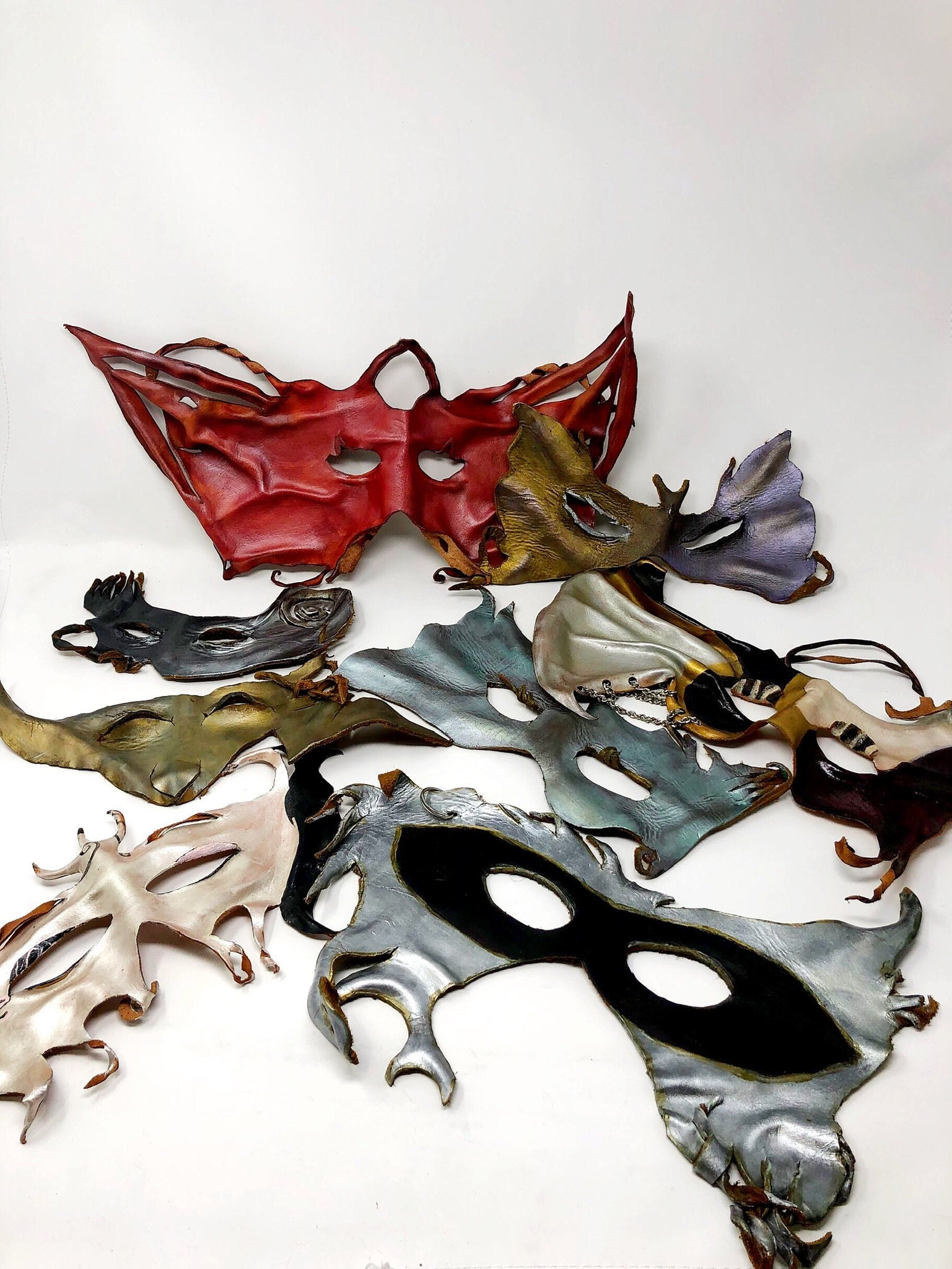 I used scrap leather from a local saddle repair shop to make my masks. I would draw a pattern on the back with a sharpie, cut it out on my moms glass-top kitchen table with an X-acto knife (sorry mom 🙃), dip them in a water/ammonia solution that caused the leather to stiffen when it dried, and then I would place them on my brother's Basketball to keep their shape while I dried them with my moms hairdyer (I'll be doing a lot of apologizing in this blog). I'd finish em up with the cheapest acrylic paint Walmart offered and name them after fantastical creatures and based off of dreams I had.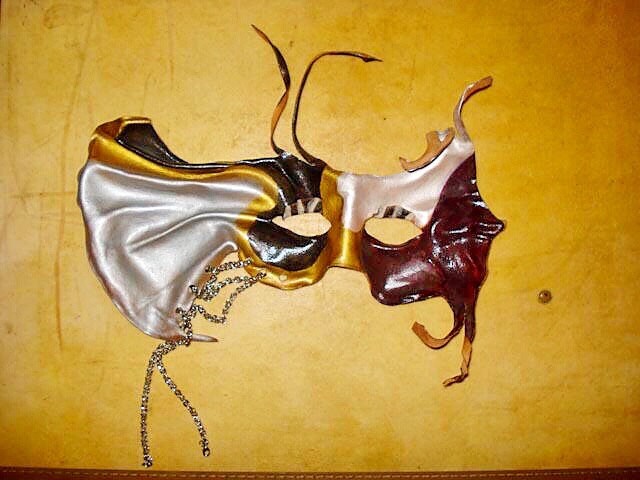 This grew to become my absolute passion and I took my skills and ran with them. I wanted to make more than just masks and I wanted to make really nice leather items. I mean reaaaally nice leather goods. I knew it would take 10+ years likely before I made something I was proud of. I stuck with it nonetheless.
To expound a bit on my mom, who is my biggest style inspiration, I have to say that, like many of us, she didn't come from a wealthy or even middle class household. She didn't come from a fashionable environment and because of that she had and still has a unique expression built from her own mind, her own beliefs and her own dreams. She puts together the COOLEST outfits and there isn't a better person that has walked this earth. She has come to every fashion week, every show, believing that I have what it takes to make my own dreams come true. You can't ask for a better best friend. She ended up getting an education and doing well for herself in her life. I remember when she got her first Chanel bag. She would wear it with the logo facing her body instead of outwards. She said she bought it for herself, not to make anyone else feel like their bag wasn't just as cool. I mean...you just don't find people like her.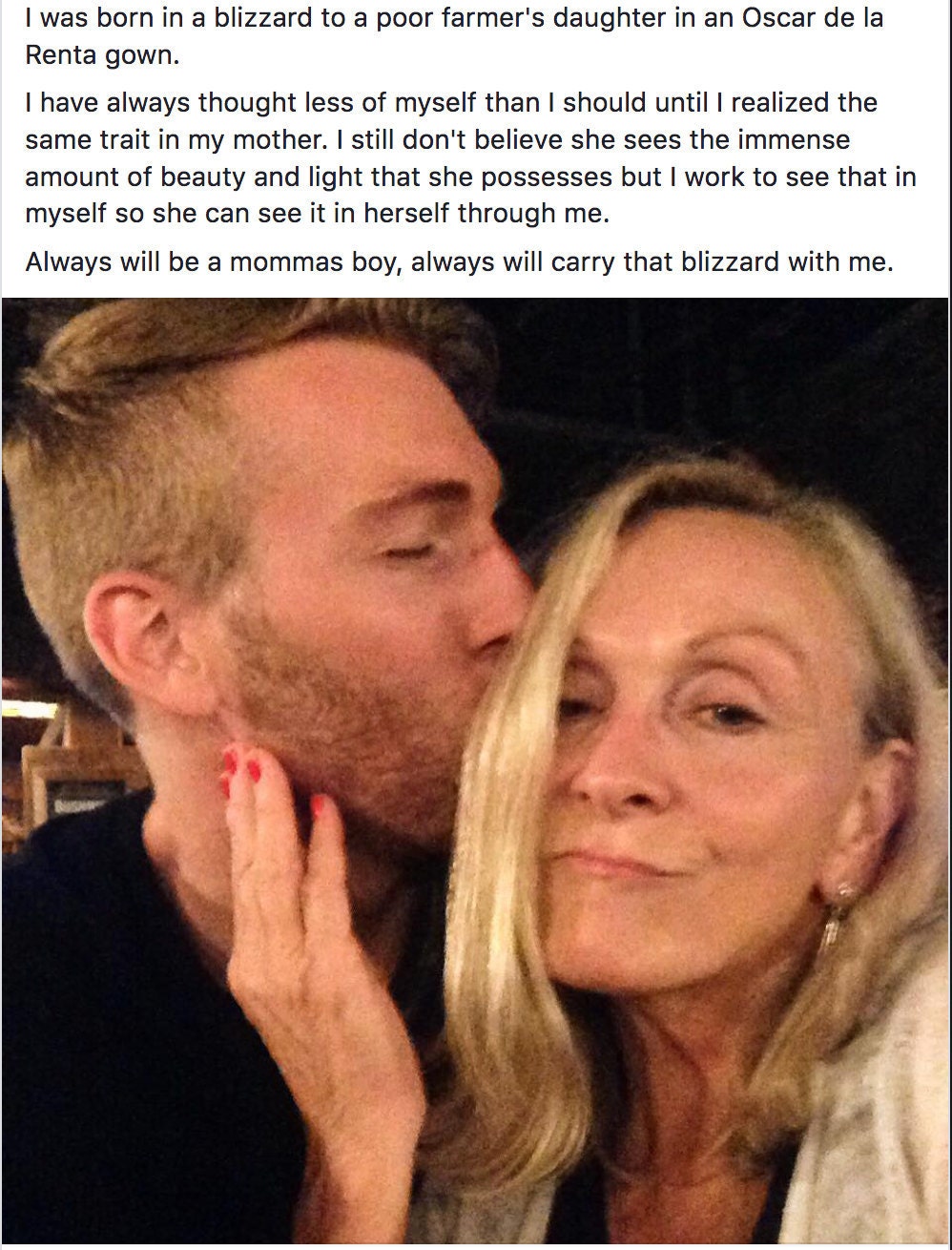 It's true! I was totally born in a blizzard! 
Here is the gown, and baby me, for refernce.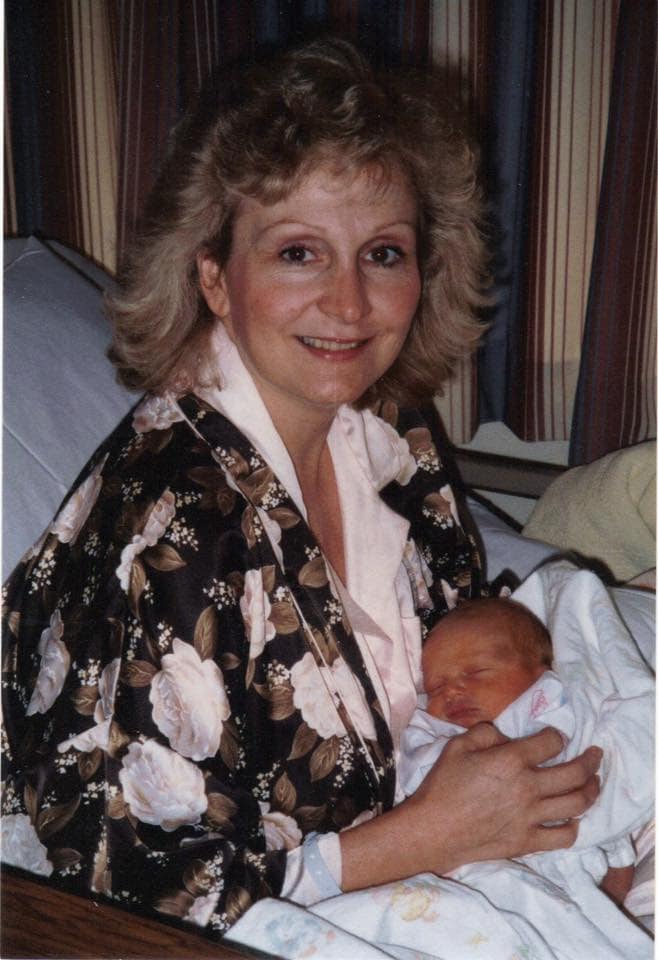 Here's another photo of my parents in Palm Beach recently being super fab: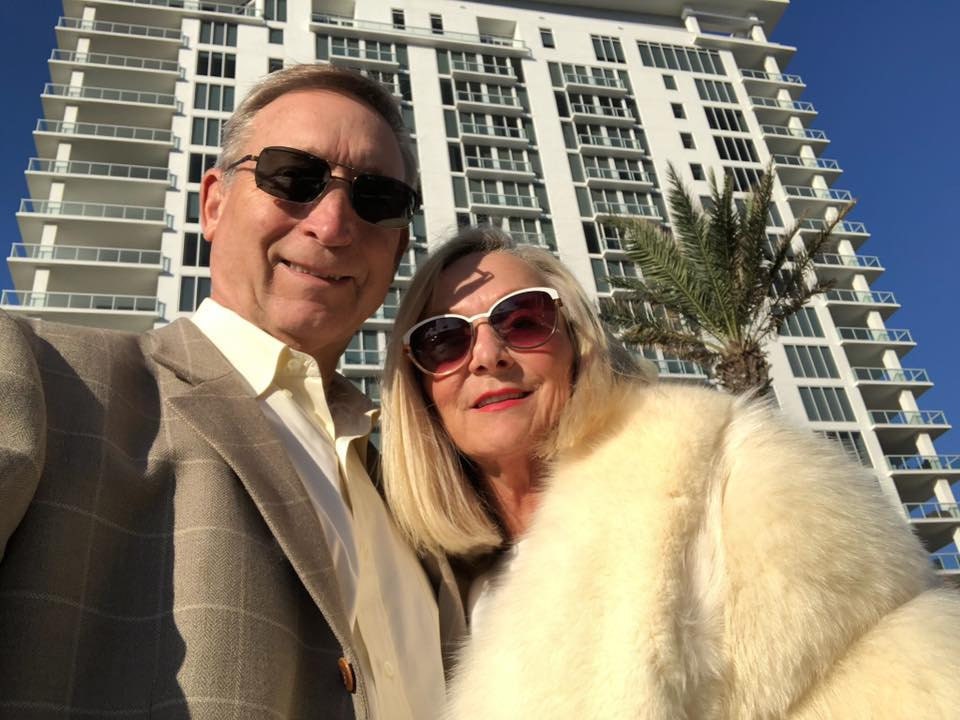 Dad is pretty cool too (like really cool). Rogue musician that he is.
During this time I went to school and received a bachelors in psychology (I minored in interpreting for the deaf and LOVED UALR's program immensely), and went on to get my masters in biostatistics at our medical school/college of public health, UAMS. It was during this time, late 2013 to be exact, that I was found out as a closet leatherworker by my dear friend Sergio. He took pictures of my work, which I had not shared with anyone, and sent them to a model friend of his who knew a designer. I was obsessed with fashion but knew nothing about how any of this worked and the fashion industry seemed so far away and unimaginable to me. Next thing I know, Korto Momolu from Project Runway Allstars had invited me to a watch party. We really clicked and she offered to include my bags in her upcoming show at New York Fashion Week in February 2014.
I was completely in awe that anyone was interested in seeing my work and to even go so far as to use their platform to help me get exposure. 
I tore up my first collection a week before I left for New York. I was being safe. I thought that if I only had one opportunity to showcase my work to the fashion community at large I needed to, as they say, "go big or go home". 
I ended up making several pieces that I still create iterations of today, such as this ouija board clutch: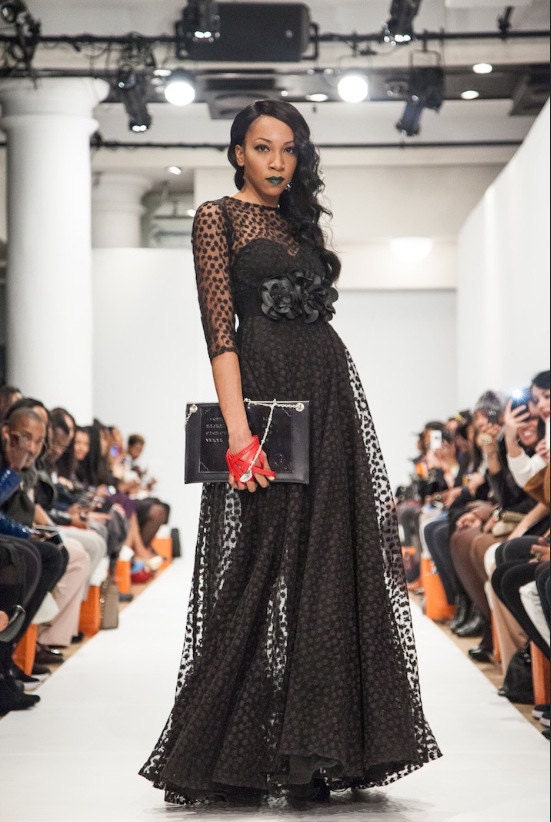 Photo by: Stephanie Parsley | Model: Treloni Flournoy
Here's a closeup:
Photo by: Stephanie Parsley 
I even attached a chandelier crystal for use as the planchette! On a crystal chain, of course. 🔮✨
Each letter and number was hammered into the leather individually. You do not want to fathom the insanity of lining everything up on the back of this clutch. One mistake and the entire piece of leather was done for. 
But it was worth it! The clutch now resides in the spooky paws of drag superstar, Sharon Needles, who shared in a seance with me on her new clutch calling out to the recently departed Joan Rivers.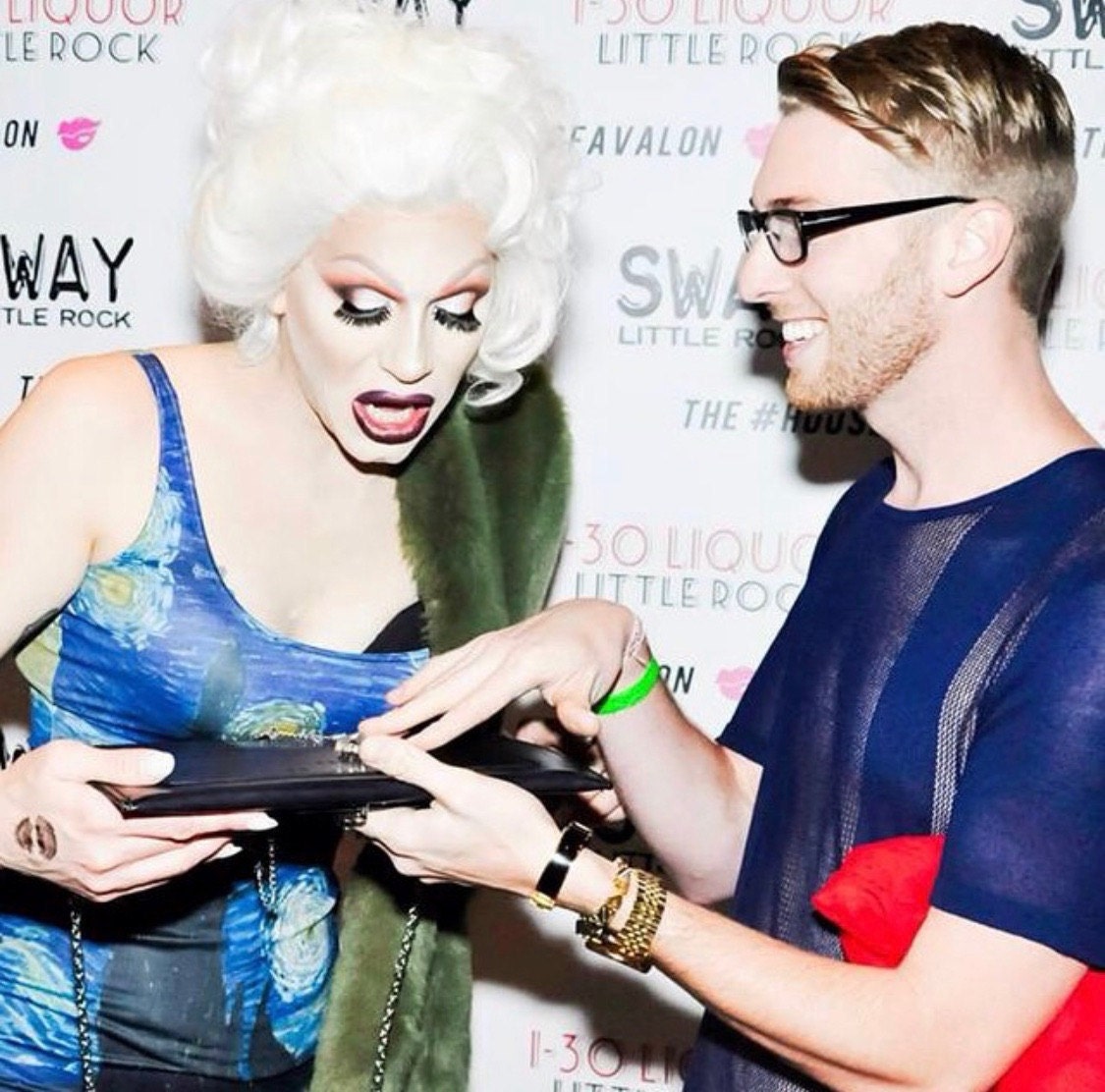 "She still smells of booze and is still rich as hell" Sharon says afterwards. 
and thats where I'll leave you for now! Part 2 coming...maybe later today even.